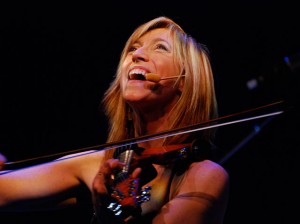 "After years of struggling with other electric violins, I was lucky enough to find Mark Wood's elegant Vipers. I have taken them all over the world on tour, and would not think of stepping on stage without them. They are a quantum leap forward in the evolution of the instrument."
Val Vigoda has been playing Mark Wood 6-string Vipers since 1996: first with her band GrooveLily; in theatres with her off-Broadway show STRIKING 12 and the Broadway-bound ERNEST SHACKLETON LOVES ME; on tour around the world with Cyndi Lauper, Joe Jackson, and the Trans-Siberian Orchestra; and more recently with her solo looping Ableton Live one-woman-symphony-of-sound project. In addition to her work as a singer and violinist, Val is an award-winning lyricist for theatre and film, and she's the first-call lyric doctor for Disney live events on two continents.
Val has been a member of the Wood Violins family for over 15 years and is not only a stellar musician – seriously, check out the video below – but an awesome person!
"Daylight" performed live by Valerie Vigoda, November 2011 from Valerie Vigoda on Vimeo.