With the Cobra, all things are possible.
Finally, after sitting around for so many centuries, cello players can now stand up and be counted!
SAY IT LOUD: "I'm a cellist and I'm proud!
The amazing Cobra cello is a beautiful, lightweight, full scale electric cello featuring our unique self supporting system, which gives you the choice of standing or sitting while you play. It is comprised of a comfortable shoulder harness which the Cobra is attached to. This gives you the freedom of movement to leap about the stage and push your pesky guitarist out of the way.
---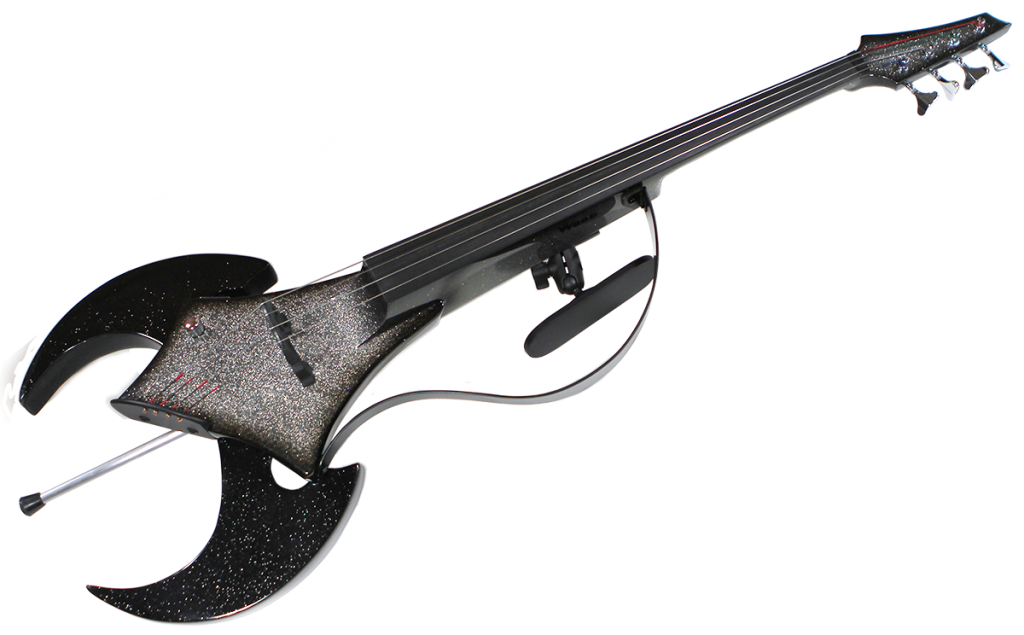 WV is proud to present the next step in the evolution of future cello design: The King Cobra.
Don't let its extra venom and radical design intimidate you! It has all the reference points and comfort zones of your beloved acoustic cello.
The centerpiece of the King Cobra is the same groundbreaking design as our traditional Cobra but with added elements that will satisfy the comfort level of even the most traditional cellist.
(The King Cobra was originally designed and built for Emil and Dariel, the incredible orchestral rock duo who were finalists in NBC-TV's hit TV show, America's Got Talent. Find out more about E&D on their Artist page.)
Custom-built to order, just like our Vipers, the sleek and stunning Cobra electric cello features the same mind blowing richness of sound that all our instruments are known for. Available in 4 or 5 string models, fretted or fretless, the Cobra grants you sonic access to earth shaking low end, clear crisp highs, and glorious midrange.
Frets
Frets allow cellists to play precisely in tune every time. Our low profile frets will allow you to utilize traditional playing techniques without compromising the beautiful subtleties of a fretless cello. You can now play faster, more precise notes and chords with consistent accuracy.
Phantom Frets
Phantom frets are simply visual lines inlayed in the fingerboard which show each interval. Essentially they are frets that you can't feel, but give you visual reference so the instrument plays just like a fretless acoustic.
Fretless
Traditional acoustic style fingerboard.
Bridge pickups: 
Our pickups are built into the bridge to give unmatched tone replication and isolation.
Barbera Pickup: Exceptional sonic range and unsurpassed tonal quality. This multi piezo bridge produces beautiful sound fit for heavy rock, classical, jazz and anything else you can throw at it. All Cobras come with Barbera twin hybrid pickups (2 transducers per string).
Average street prices range from $3,900 – $6,000, depending on the options you choose (number of strings, fretted or fretless, type of custom finish).
SPECS:
• Body – poplar wood
• Fingerboard – select ebony
• Tuning machines – sealed gear, gear ratio 14:1
• Strings – Custom SuperSensitive
• Pickup – Wood TruTone or Barbera
• Tailpiece (Cobra) – Thomastic
• Tailpiece (King Cobra) – custom aluminum
• 4 or 5 string models
• Fretted, fretless, or phantom fretted (lined fretless)
• Special feature – the Cobra self-supporting shoulder harness system (patent pending)
• Finishes: solid gloss, solid matte, pearlized, metal flake, exotic top (tiger maple, quilt)
• Choice of hardware – black, silver, gold
• Scale – 695mm
• Nut width:
4-string – 31mm
5-string – 34mm
• Fingerboard length – 580mm
All of our instruments have neck through construction for increased sustain and durability!
FEATURES (Cobra):
Lightweight hollow body construction
Self Supporting harness system
Incredible tone
Geared tuners for effortless tuning
Available in 4 or 5 string configurations
Tuned in fifths like a 'traditional' cello (high to low E A D G C)
SPECIAL FEATURES (King Cobra):
Custom lower "bat wing" bout – complete with an end pin that's built to handle punishment. This radical lower bout design provides the contact points the traditional player requires.
End pin – bullet proof end pin with rear mounted thumb screw.
Custom upper bout – This stylish addition to our Cobra design is made from aircraft grade aluminum and mimics the contact point needed for a more traditional feel.
Adjustable upper rear bout – This fully adjustable rear-mounted platform can be adjusted to get the perfect distance between the player and their instrument, simulating the depth of an acoustic cello.
Self support – Just like its cousin the traditional Cobra, the King Cobra can also be used with our patented self support system.