ANNIE HASLAM Violin Signature Series Wood Violins is intensely proud and thrilled to announce the brand-new "Annie Haslam Violin Signature Series" – individually and uniquely painted electric violins exclusively offered by our company.
Brilliant vocalist and songwriter Annie Haslam, best known for her groundbreaking work in the 1970's progressive rock band "Renaissance" has been experiencing tremendous success in her career as an artist and she will paint your Viper, Sabre, Stingay, or Cobra JUST FOR YOU in a one-of-a-kind artistic representation of your musical vision. Annie will consult with you to create a palette of colors and expression that is truly and uniquely YOURS and if you like, she will accompany your instrument with a beautiful companion painting on canvas. She can even do a custom matching bow! Below you will find a sample of several instruments Annie has done for us: "Diana," "Victory," "The Dreamer," and "Sea Maiden." Please click on the thumbnails so you can get a larger view of some of the fine spectacular details. You will spend HOURS examining each area of your instrument to find every little gem that Annie has painted! In a quote from her website, Annie says "Color and sound are one of the same, so in my case, my art is a continuation of my singing displayed on canvas." (or in this case, a Wood violin!!) THIS IS A PERFECT GIFT for yourself or for the one you love! To find out more about the incredible Annie Haslam,
CLICK HERE
. (And be sure to visit her Art Gallery while you're there!)
EMAIL or CALL FOR PRICES – 1.516.767.6677.
"Glorious Passions"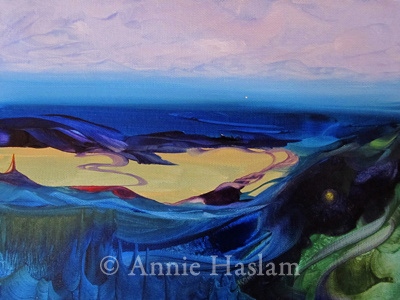 "Glorious Passions" The companion painting
---
"Stream of Consciousness"
| | | |
| --- | --- | --- |
| | Nicole Peragine with her Viper | |
| | | |
| | "Stream of Consciousness" The companion painting | |
| | | |
| | | |
| --- | --- | --- |
| | Diana Lanpher with her Viper | |
| | | |
| | | |
| | "Rocker Girl" The companion painting | |
| bow detail 1 | | bow detail 2 |
---

---
"The Dreamer"
---
"Sea Maiden" (based on "Victory" but with a personality all its own)
If you are interested in ordering an Artist Series instrument please contact us directly at 516-767-6677 to discuss your dream design