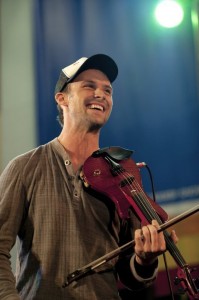 "My Sabre is by far the most impressive electric violin I have ever played. Playing onstage next to electric guitars used to be an issue. Not anymore. The Sabre is such a responsive piece of craftsmanship, that those beautiful Barbera transducer pickups help reach right through walls of guitar sound and keep me right up front, all the while maintaining an incredibly warm, rich tone. Pizzicato too! On top of it all, I really needed a electric violin that FEELS like a violin to play. Behold, the Sabre!!! Looks like a dream, plays like a dream."
Jesse Spencer, one of the stars of the hit TV shows House and Chicago Fire also happens to be a wonderful violinist who performs with Band From TV, a group comprised of TV actors who devote their free time to raising millions of dollars for their personal charities.
Jesse plays a stunning 5-string fretless Sabre with a Barbera pickup, Perfection pegs, and a teak tiger maple exotic top. Watch him duel with Mark on Devil Went Down to Georgia!