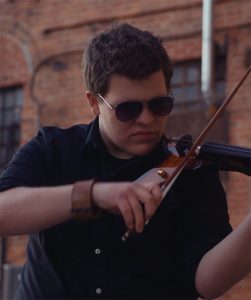 "I have played many different electric violins. Without a doubt the Viper Violin surpasses them all! I wanted an electric violin that not only sounded like an acoustic violin, but one I could bring my classical technique to as well. Not only can you bring across your classical training, you can rock out with ease and mobility. I would definitely recommend this to anyone seeking a powerful companion on stage or in the studio!"
Electric Violinist Joseph Shackelford is transforming the perception of what is possible with the violin and genres such as rock, pop, alt rock, and more. Described as the "Jimi Hendrix of Violin," Joseph is taking on the world one stage at a time. and has performed on the same bill alongside artists such as 3 Doors Down, Ben Folds, Barrett Baber, Whisky Myers, Will Hoge, and many more. Developing a diehard fan base, Joseph's shows always deliver. Equipped with an energy that is fun and engaging, Joseph creates an experience that will rock any music festival or concert venue.
Connect with Joseph:
Website | Facebook | Twitter | LinkedIn | YouTube
Check out Joseph's Viper page on his website!