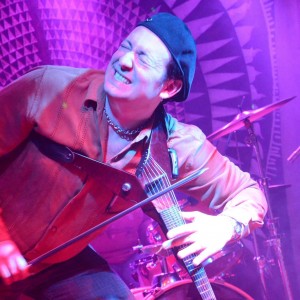 "As a violinist and vocalist who likes to do both simultaneously, the Viper is the answer to my prayers. The harness system allows complete versatility and flexibility for singing and playing. It also eases tension in my back and allows for more freedom of movement. The frets have saved my life on those nights when I couldn't hear myself in the monitors. As a guy who loves to invade other people's frequency ranges, having the 7 strings has really helped me with this goal. Seriously though in addition to its amazing tone, the instrument is truly beautiful. It is truly a work of art that looks great on stage. The Viper has opened many musical doors for me, and I am proud to recommend your instruments to my students, and to any string players who want to expand their horizons and bring out their inner beast."
Website | Facebook

A musician who transcends many genres, Joe Deninzon has worked with Sheryl Crow, Bruce Springsteen, Phoebe Snow, Everclear, Ritchie Blackmore of Deep Purple, Smokey Robinson, Aretha Franklin, Robert Bonfiglio, and Les Paul among many others. He has also performed as a solo electric violinist with the New York City Ballet for Richard Einhorn's "Red Angels." and has performed, co-written, and musically directed the of Broadway show, "Spider Dance" with percussionist Alessandra Belloni. Joe is the lead singer and violinist for the band, Stratospheerius, who have just released their fifth CD, "The Next World," on Steve Vai's Digital Nations label, and were named "Best Jam Band" in the Musician's Atlas Independent Music Awards. He can be heard on over a hundred CD's and jingles as a violinist and string arranger.
AND he is a faculty member at Mark Wood Rock Orchestra Camp (MWROC)!