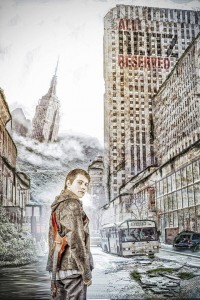 "[When] I ordered my Viper I was about to quit music after more than ten years of classical violin. I hated performing in front of an audience. I used to be anxious and shaking. Through this extraordinary instrument I started discovering a new world of music. Music has always been a competition until then. Today I am looking forward to any opportunity to walk on stage and perform in front of people, alone or with my band. My favorite feature is the chest support system.
"If you don't feel at ease, you can't perform at a top level. And the Viper is by far the most comfortable violin I've played. But the most important thing is that the Viper has taught me to express myself through music. And therefore I am forever thankful."
In 2010 at the age of 17, Chris Reitz started conquering the stages in Luxembourg (Europe) and the Greater Region with his Viper. As a member of the local band Anthem of the Sun he developed a true passion for music. In 2013 his own solo project All Reitz Reserved was born. His live sets include a mix of influences, from rock and blues to dubstep and more electronic elements mostly based on loops. Recently Chris started collaborating with cellist André Mergenthaler playing an exclusive set of fully improvised shows. They had the pleasure to support the great Al di Meola in November 2013.