"It's just beautiful. BEAUTIFUL I say! The general electrified sound, especially with some distortion… it just sounds better than any other pickup system OR electric violin I've ever used, that's for sure. I'm just thrilled and very grateful… I'm gonna destroy the world with this thing!"
Watch Steve Vai and Alex DePue trade scorching riffs at about 2 minutes in!
Alex DePue began taking classical violin lessons at age five. He won his first major competition at age 10, and later (age 14) won a competition that entitled him to perform at Carnegie Hall as Concertmaster for the National Guild Youth Symphony Orchestra under the direction of Joseph Silverstein. He has continued to win competitions and appear as a guest soloist with orchestras and at festivals worldwide.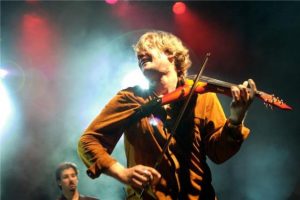 Despite his classical training, Alex became interested in fiddling at age seven, and began competing in old-time fiddle contests at the age of 12. He reigned as the Michigan State Fiddling Champion from 1994-1998; won the first-place trophy at the Walnut Valley National Fiddling Championship in Winfield, Kansas in 1999 and 2005; won first place in the Halletsville, TX "Gone to Texas National Fiddling Championship" in 2000; won first place in the Alabama state fiddle contest in 2006 and 2007; and won first place in the California state fiddle contest in 2007. He has been ranked among the top 10 fiddlers in the nation at the Grand Masters Fiddling Championship (Nashville, TN). In 2005, Alex placed fourth at the GMFC. Alex served as a judge at the National Oldtime Fiddling Championship (Weiser, ID) in 2008. Alex toured with Capitol Recording artist Chris Cagle from 2000-2006, with whom he still regularly appears (re-runs) on the Grand Ole Opry, Country Music Television, Great American Country, and VH1 Country.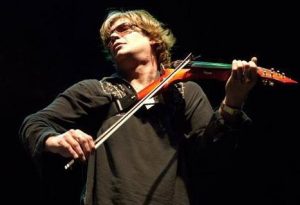 Alex joined legendary rock guitarist Steve Vai for a 2007 world tour that took him across North America, South America, and Europe. Alex's YouTube videos are from all parts of the globe, and his #1 YouTube hit, 'Owner of a Lonely Heart' (originally recorded by the 80's rock band, Yes) has been viewed worldwide over a million times. 2010 continued celebration for Vai's 2009 DVD release, "Steve Vai: Where the WILD THINGS Are" (a live concert music-movie co-featuring DePue), its Grammy nomination (Best Rock Instrumental) for the 52nd Annual Grammy Awards and Gold Record (award issued to each band/cast member) from the Recording Industry Association of America in recognition of "Gold" sales status in both the US and Canada.
Alex recently teamed up with Mexican guitarist Miguel De Hoyos. Their unique international sound has been praised by elected Mexico officials in Baja California South and Baja California North, MX and their spectacular musical performances are being extolled by popular English-written Mexican publications such as the Gringo Gazette and the Baja Times. Alex and Miguel released their first recording 'Underground Whispers" in 2009 and their new album "Twisted Strings" (2010) are both available at www.depuedehoyos.com <http://www.depuedehoyos.com> or www.alexdepue.com <http://www.alexdepue.com> .
In addition to performing, Alex is a published composer and arranger of music. Alex has a self-produced CD available which features pieces he arranged and/or composed. In addition to his own CD, he has produced recordings for singers and other instruments, and records sessions in his off time from tours.
With his brothers, Alex played on the soundtrack for the Philadelphia Orchestra documentary, "Music from the Inside Out". Alex also composed one of the pieces recorded for the documentary. With a background in both classical violin and fiddling, and an ability to play not only the violin but also the viola, mandolin, guitar, double bass, percussion, and piano, Alex is an artist that can produce any style of music.
"Alex DePue is described as one of the leading improv violinists of his generation, with legendary prowess in bluegrass, rock, classical, and jazz/blues…" (Kansas City Tribune)