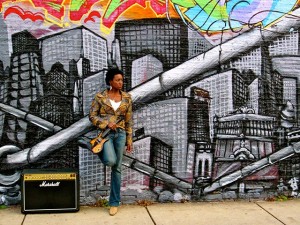 "As a classically trained violinist, I was always curious about how to take my violin playing outside of the traditional realm, I just didn't know how. It wasn't until I met Jesus Florido who was playing on a Viper (the coolest violin I'd ever seen) that it all began to make sense. Jesus invited me to Mark O' Connor's fiddle camp, where I was introduced to Mark Wood and his amazing collection of instruments. My journey thus begun. I spent the next several years patterning my playing style and sound after electric guitarists like Jimi Hendrix, Stevie Ray Vaughan and Slash, and I wanted an instrument that provided me with the versatility of sounding like a guitar or a violin. I was attracted to the Sabre because it felt and played like a regular violin but had the power to stand up to guitar amps. By pairing my Sabre with a Marshall amp and a few pedals, I have been able to create a sound that rivals most guitarists."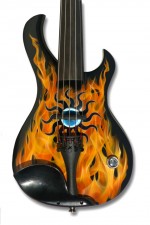 Adia is the proud owner of the Black Sun Sabre, an insanely beautiful creation from our Chris Compston Artist Series.
She is the leader of Adia & The 7 Eyes, a rock and soul band based out of Chicago, IL. Since hitting the live circuit in January of 2013, the band has received substantial national and international IRadio and indie blog exposure in addition to winning Chicago Deli Magazine Artist of the Month. Most recently Adia opened for Grammy Award winning guitarist Steve Vai as the winner of the Sam Ash Best in Shred Competition.
Learn more about Adia and her unique playing style and sound:
Website | Facebook | YouTube