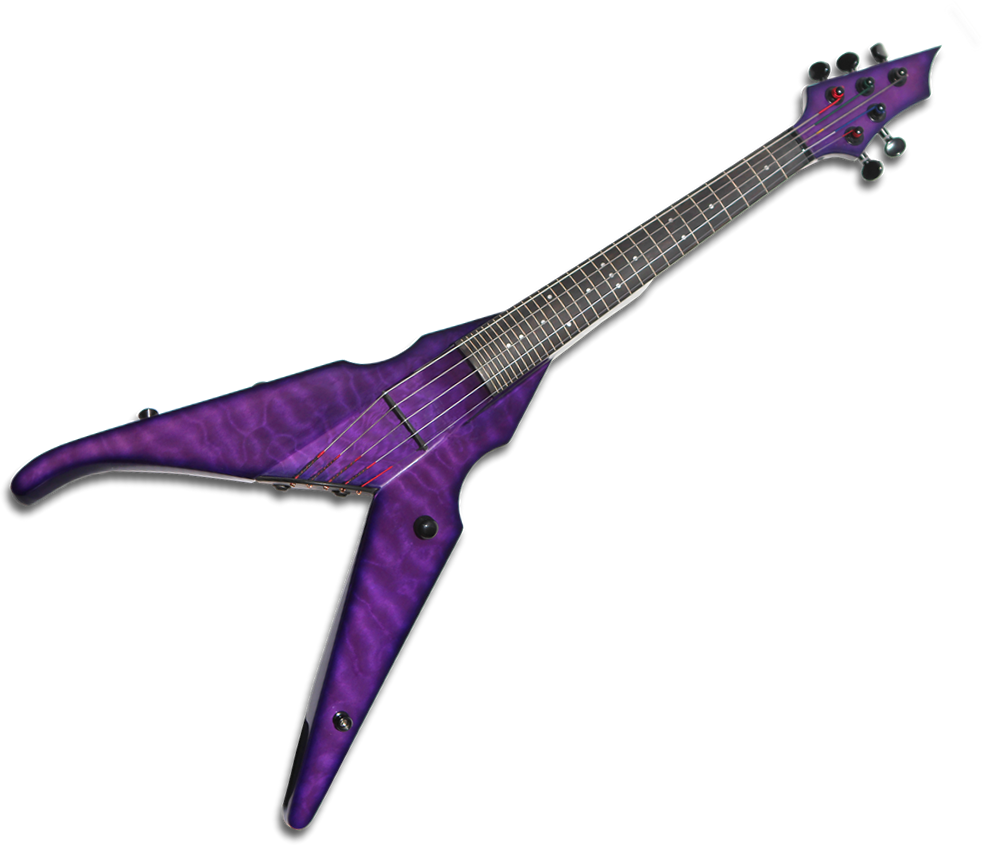 A super limited-edition version of our patented Viper violin, this Viper is based on Mark Wood's personal instrument, which is the first Viper ever built over 25 years ago.
See it in action! Watch this awesome Strings Magazine video review.

Please note: The Mark Wood Signature Viper is equipped with a piezo-based bridge pickup designed by Mark Wood, not a Schatten, as mentioned in the text and video review.
Read the full review from Strings Magazine by clicking here.
The Mark Wood Signature Viper possesses the same stellar quality as the rest of our custom Vipers but comes with a lower price tag than similar configured custom Vipers since they were all built at the same time. Always dreamed of owning a Viper just like Mark's? Well, now you can!
It includes our powerful Wood pickup, "phantom frets" (lined fretless), and the standard model sports a gorgeous purple quilt burst exotic top with deep indigo edges that we like to call Royal Purple. Plus, it's got Mark Wood's signature logo imprinted on the back, right above the serial number.
The Mark Wood Signature Viper is available in 3 fabulous finishes: Royal Purple (shown above), Purple Sky,  and Emerald City Green (click the Gallery tab to see pix).
Click on the Specs tab to find out more, and be sure to check out the 3D view under the Gallery tab!
Average street price – $2,199
• Constructed from quality acoustical hardwoods: poplar body and full scale ebony fingerboard.
• Nicely figured two piece quilted maple veneer top with a stunning deep transparent purple finish with indigo edges.
• Features a Mark Wood signature logo.
• Completely self supporting, utilizing our patented Chest Support System™ to give you unrestricted freedom of movement like no other violin. Take your playing and performances to a new world of possibilities.
• Equipped with our Wood bridge pickup. This bridge pickup gives you unmatched audio output signal, replication and quality because unlike other electric violin companies, ours has the pickup transducer built directly inside the bridge, not under the bridge foot. This also eliminates the possibility of acoustical feedback sometimes associated with 'under the foot' pickups. Additionally, each bridge is electronically calibrated with capacitors for its optimal frequency range.
• Fitted with precision tuning machines so your instrument is easy to tune. This also eliminates the need for fine bridge tuners.
• Features a Phantom Fretted fingerboard (lined fretless). These visual lines show each half-step interval on your fingerboard. Using Mark Wood's fret interval system will help you take your playing to a new level. You will also find the visual reference great for live performances. If you don't have a clear monitor signal, you'll never have to wonder if your playing in tune again.
• Set up using top grade electronics.
• Comes with its own custom high quality Viper gig bag.

3D View – Use your mouse or swipe to spin | shift to zoom in | control to zoom out