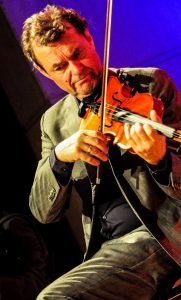 "I love the Mark Wood Concert Series Acoustic violin for its natural and direct sound, that is truly enhancing my music."
Joerg Widmoser is one of the most versatile and virtuoso jazz violinists in Europe. He has played 1st violin with the Modern String Quartet since 1983, and is an active performer in a wide variety of jazz ensembles. With the Modern String Quartet, he toured Europe, Asia, Africa, the Middle East and the United States several times. So far he has published 39 CDs.
Joerg Widmoser was honored with several cultural awards: 1st place at the International Jazz Violin Competition in Stettin (Poland, 1987), Award of the German Phonoakademie, Cultural Award of the City of Munich (1986) und Nuremberg (2007).
He has toured the U.S. with great jazz musicians like Claude Williams, Tony Williams, Steve Rudolph, Philly Joe Jones, Grover Washington, John Blake, Mark O'Connor, Matt Glaser, and many others.