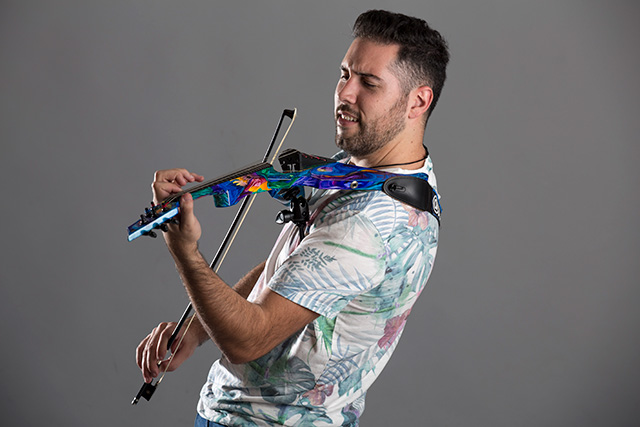 "My Viper is simply perfect. As a child I always dreamed of a violin that would allow you to play freely and the viper did it. The Viper is a modern violin with a host of new possibilities for violinist. When you play the Viper, you feel free. the sound is brilliant and the aesthetics is just amazing. Also, with my Annie Haslam finish I get a unique piece of art made for me. Can't wait to receive my second Viper!!!"
Yorch, a native of Madrid, has grown up in a family surrounded by renowned musicians who has instilled in him, since childhood, the passion that he feels for music today.
With more than 20 years of experience, his extensive musical training has made him part of the best classical orchestras, such as the Phylarmonic Orchestra of Spain, and also has made him succeed not only in the world of electronic music at national and international level with his live shows, but also in the pop music sharing stage with famous artists like Laura Pausini, Alejandro Sanz, Ara Malikian, 2 Cellos, and also acting in TV programs like "Qué Tiempo Tan Feliz", "Got Talent España" or "Radio Nacional de España".
He is also known for his covers on the internet and social networks, with more than 1 million and a half visits to his videos this year. You can find his music on Spotify, Apple Music, Google Music, YouTube, Instagram…
Website: https://www.yorchviolinista.com/
Instagram – https://www.instagram.com/yorchviolinista
Spotify: https://open.spotify.com/artist/0m3EUvMCBLTjtLFiVVJGSr?si=hnrkBl0hRzSpV-IC0OD62A
Facebook: https://www.facebook.com/YorchViolinista