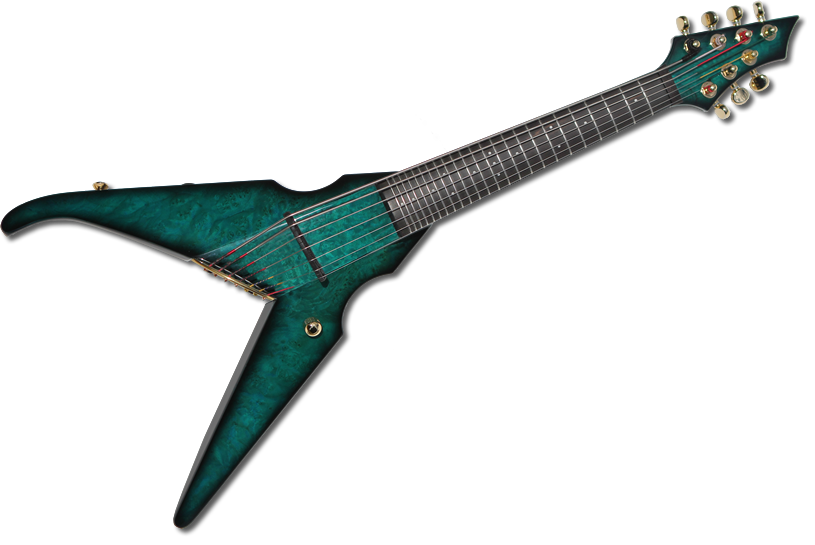 The VIPER: the perfect example of practicality, innovation and originality.
The Viper is the most versatile and innovative electric violin ever offered to the modern violinist. With the breakthrough design of our patented Chest Support System™, the Viper is completely self-supporting (no chin rest!).
Now violin players can experience a level of physical and musical freedom that feels completely natural while expanding boundaries of musical tone and onstage performance.
The Viper's stunning appearance is only half of its appeal. The other half is just how comfortable, versatile and intuitive an electric violin can truly feel and sound.
Add all that to the arena-shaking low frequency range of the 5, 6 and 7 string Vipers, and it will leave you asking, "why didn't anyone think of this sooner?!"
Our Unique Patented Chest Support System™
The most exciting development in electric violins is our invention of the revolutionary lightweight Chest Support system™ which eliminates the need for a chin rest and shoulder pad, allowing your Viper to support itself and "float" on your body. With the utilization of our chest support system, players now have the freedom of movement to explore new possibilities such as singing and coordinated movements.
Your neck will thank you.
Eileen Riechard Drew shares her compelling story about how her neck issues prevented her from playing until she discovered the Viper. We dare you not to shed a tear…
Frets
Frets allow violinists to play precisely in tune every time. Our low profile frets will allow you to utilize traditional playing techniques without compromising the beautiful subtleties of a fretless violin. You can now play faster, more precise notes and chords with consistent accuracy.

Phantom Frets
Phantom frets are simply visual lines inlayed in the fingerboard which show each interval. Essentially they are frets that you can't feel, but give you visual reference so the instrument plays just like a fretless acoustic.

Fretless
Traditional acoustic style fingerboard.

Bridge pickups: 
Our pickups are built into the bridge to give unmatched tone replication and isolation. Choose between our Wood pickup or Barbera pickup.
Wood Pickup: Powerful pickup and great tone – our exclusive design. Similar to the one Mark Wood used on his debut album, Voodoo Violince, this full-bodied pickup packs a punch that will more than satisfy the needs of most players.

Barbera Pickup: Exceptional sonic range and unsurpassed tonal quality. This multi piezo bridge produces beautiful sound fit for heavy rock, classical, jazz and anything else you can throw at it.
A note about the Barbera Transducer pickups:
All 4, 5, and 6 string violin bridges are hybrid models (one transducer per string) but can be special ordered as TWIN hybrids for an additional charge (two transducers per string). But before you go rushing out to upgrade to a twin hybrid, you should know that we feel there is not a noticeable difference between the two.
7-string Vipers all come with twin solid model bridges (2 transducers per string) Our 4, 5, and 6-string Cobra cellos all come with twin hybrid pickups (2 transducers per string).

Average street prices range from $1,900 – $4,500, depending on the options you choose (number of strings, fretted or fretless, custom finish type).
SPECS:
• Body – poplar wood
• Fingerboard – select ebony
• Tuning machines – sealed gear
• Strings – D'Addario
• Pickups – Wood or Barbera
• Self-supporting chest support system
• 4, 5, 6, and 7-string
• Fretted, fretless, or phantom fretted (lined fretless)
• Scale: 330mm
• Nut Width:
4-string – 24mm
5-string – 27mm
6-string – 32mm
7-string – 34mm
• Fingerboard length – 253mm
• Finishes: transparent, solid gloss, pearlized, metal flake, exotic top (burl, tiger maple, quilt)
• Hardware: black, silver, gold
All of our instruments have neck through construction for increased sustain and durability!

FEATURES:
WV's patented self-supporting system
Lightweight construction
Versatile electric tone (explore distortion, sustain, and feedback with the use of pedals & effects)
Geared tuners ensure effortless tuning
Tuned in fifths just like a 'traditional' violin (7-string, high to low: E A D G C F B-flat)


Use your mouse or swipe to spin | shift to zoom in | control to zoom out