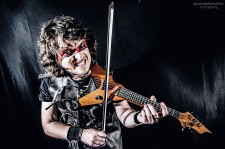 "I am Lethien, the violinist of the folk-metal-rock band called Elvenking. We are the first Italian band that introduced a violin in a rock/metal music context (from 1997).
"I tested a lot of electric violins and finally the Viper is for sure the best one for my needs!
"My 5-string Viper has a very clear and rich sound and an incredible adaptability for a lot of music genres.
"I'm proud to use this very cool Wood violin: enormous on the stage!"