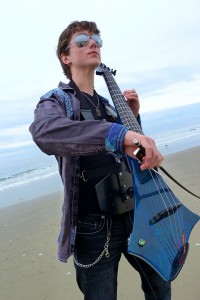 "The #1 reason why I have a Mark Wood Cobra Electric cello: it's a total attention getter! Whenever you pull the Cobra out of the its capsule (because "case" or "bag" should never be the proper name of the carrier for this instrument), people immediately notice the unique and just plain awesome shape and style of this instrument. I customized my Cobra to have 6 strings instead of 4, raised frets, a high gloss flaming blue finish, and even the volume knob is custom. It can be worn so you can play standing up or you can flip the harness upside down and the shoulder system sits on your legs so you can sit down with it. When standing up with the Cobra, I can maneuver and basically dance with it while I'm performing, which makes any performance 100% more interesting.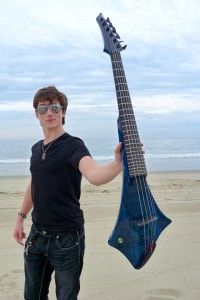 "Another reason I love this instrument is the option of having 6 strings – a low F and a high E. For cellists, our only limits are our skill level and how much we practice…the 2 extra strings just make us even more limitless!!! I LOVE FRETS – nuff said. They're cool looking and frets are very handy in a plugged in environment.
"This is why I LOVE my Cobra electric cello."
Sam has been classically trained since age 7. He loves performing solo, with an ensemble or band; from the State Capital to private Valentine serenades. The highlights of his Cobra journey to date are: 2013 MWROC, playing with Mark and 9 other Wood proteges for the MuzArt World Foundation concert, and playing the National Anthem solo for the OKC NBA Thunder Team crowd of 18,000+. One great gig leads to another!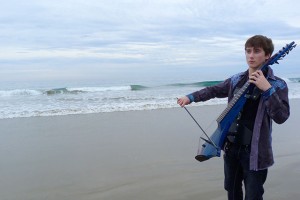 From Sam's Mom: "Flashback to 2011…Being the mom of a 12 year old musician, my biggest fear was to hear the words 'I don't want to play any more' so I started looking into what was out there that would be exciting. The world of electric instruments was an obvious avenue since it parallels the acoustic, and allows for unlimited creativity while maintaining the muscle memory and basic fundamentals. It was exactly what Sam needed to keep him 'plugged into music.' After having his acoustic and electric for a year or so, his instructor Tomasz Zieba told him he should name his cellos. Without hesitation, he says 'Mustang & Sally.' Of course, the Cobra is Mustang!"