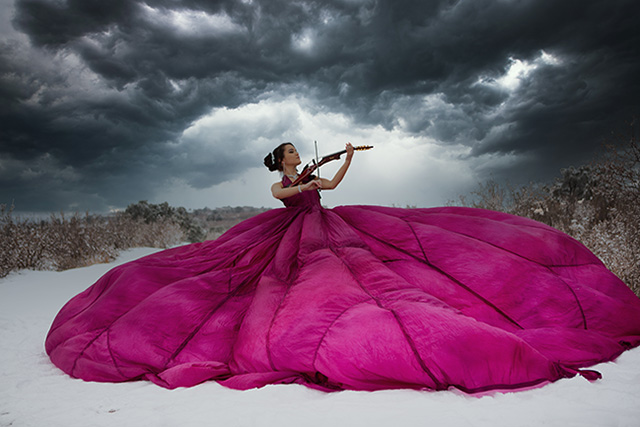 "My Viper changed my life in so many ways. My musical world has opened up in ways I never expected now that I have the extended range, and I have so much musical and creative freedom on the instrument. I've wanted a Viper for so long, and I'm so grateful I get to play such a beautiful piece of art every day! I've always felt so welcomed and supported by the Wood Violins community and that's something I'll always be grateful for."
Mia Asano is an electric violinist from Denver, Colorado. Classically trained from the age of five, she developed a love for alternative styles of music early on and plays a variety of music styles including rock, pop, jazz, classical, bluegrass and celtic music. After graduating from the Denver School of the Arts she went on to attend the Berklee College of Music as a dual major in Performance and Professional Music. During her junior year, she began posting short videos on TikTok and Instagram to practice her recording/mixing and video editing skills. One of the early videos went viral, gaining 10 million collective views in less than a week on multiple social media platforms and resulting in over half a million followers on TikTok. Since then, she has had success with other videos as well, including an arrangement of Nathan Evans' Wellerman Sea Shanty which gained Global recognition on networks such as the BBC, NBC, Washington post, and more.
Mia has played with notable performers Lindsey Stirling, Devan Blake Jones, and in the Berklee College of Music Rock All Star Ensemble and Berklee Chamber Orchestra, participating in a viral video with them that collected over 800,000 views on Facebook and Youtube. In the summer of 2020 she won the category for best Violin performance in the Trans-Siberian Orchestra's play-along contest. She has performed at Carnegie Hall, Alice Tully Hall, and Colorado Public Radio, as well as at Boston venues including the House of Blues and Royale, and the First Bank Center and Ellie Caulkins Opera House in Denver. She has also performed internationally in Vienna, Austria and in Valencia, Spain.
Mia endorses Wood Violins and Orange Amplifiers, and primarily performs on a 7 string fretted Viper. Though she has a love for classical music, Mia's true joy comes from playing her electric violin. Her biggest inspirations over the years have been violinists in all genres of music and she believes wholeheartedly in breaking boundaries and sharing every aspect of what the violin is capable of, as well as helping people and spreading positivity through music. Currently she pursues several personal musical projects while attending college in Boston, including a Celtic band and her solo project the 'Mia Asano' band, while also putting out daily content on her social media platforms and releasing original music on Youtube and Spotify.
Connect with Mia:
Website | TikTok | Instagram | Facebook | YouTube