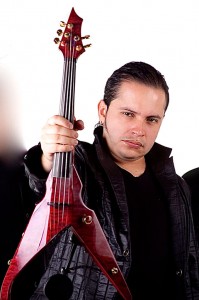 OPINIÓN DE DAVID:
"Soy violinista con entrenamiento clásico pero empecé a tocar rock y metal hace mas de 20 años. En Colombia no había otro violinista que hiciera esto en los 90´s y me tocó a mi abrir mi propio camino, al ser el primero en intentarlo seriamente en mi país, a punta de ensayo y error. Yo sentí la necesidad de encontrar un violín eléctrico que llenara mis expectativas para poder ampliar mi horizonte sonoro pero no había nadie que pudiera aconsejarme al respecto. Empecé a buscar en internet y fue ahí donde encontré a Mark Wood y sus maravillosos instrumentos. Antes de comprarlo tenía miedo de que no fuera lo que yo esperaba. Sin embargo me arriesgué y ordené un hermoso Viper rojo de 5 cuerdas. Apenas lo tuve en mis manos supe que mi carrera estaba a punto de dar un vuelco total!!! El sonido de mi Viper era agresivo, rudo pero al mismo tiempo hermoso. Perfecto para TENEBRARUM, mi banda de metal y para mi proyecto solista de Violín Rock. Y cuando pensé que no había nada mejor, encontré el Electrical Acoustic Deluxe de 5 cuerdas…wow!!! Tiene un sonido dulce pero es contundente y grandioso a la hora de grabar. Con la rudeza de mi Viper y la dulzura del Deluxe, encontré el balance perfecto. Gracias a todos en Wood violins por dejarme entrar a la familia!!!"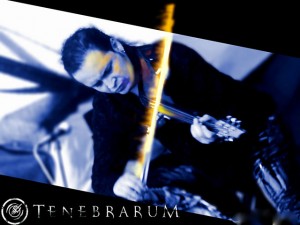 DAVID´S ENGLISH QUOTE:
"I'm a classically-trained violinist but I also started to play rock & metal more than 20 years ago. In Colombia, it was impossible to find any violin players in the 90´s who played anything removed from classical, even blues, and I was forced to look for my own path. Being the first interested in exploring metal music with the violin in my country, by trial and error, I felt urged to find a violin able to open my sonic horizons, but there was nobody to give me any clue about it. I started to research on the internet and suddenly I discovered Mark Wood and his awesome instruments! As I was deciding to purchase it, I was a little scared ("What if's…" you know). However, I took my chances and ordered a gorgeous red 5-string Barbera powered Viper. As soon as I had it in my hands I knew my playing was about to change radically!!! My Viper's sound is totally bad-ass but, at the same time, beautiful, perfect for my metal band; TENEBRARUM, and my Violin Rock solo project.
"Then, just when I was thinking "Nobody can beat this one", I found the mighty 5-string Concert Series Acoustic-Electric Deluxe… WOW!!! Its sound is sweet and smooth but awesomely powerful and perfect in the recording studio. With the strength of my Viper and the smoothness of my Concert Deluxe, I found the perfect balance. Thank you Wood Violins crew for letting me in to the family!!!"
David Rivera is a Colombian rock-metal violinist. As with many other performers, he has had classical training, being part of Antioquia's Symphonic Orchestra (1991-1994), Antioquia's Youth Symphonic Orchestra (concertino, 1998-2000) and Medellin's Philharmonic Orchestra (2001-2012). As a child, he discovered the power of Metal music and he felt in love with it. In 1990 he created his own Metal band, TENEBRARUM, who have since recorded 8 albums, being one of the most prolific Metal bands in Colombia. TENEBRARUM is one of the most respected Colombian metal bands, having won several awards and recognitions inside the country. He is also the founder of DR Violin Rock, his solo Project (2011). This is a project in which David showcases his musical prowess, and amazing talent on the violin, by mixing 80's music & Heavy Metal.
David is an innovative and versatile musician who can play a variety of musical styles: From Colombian folklore (with his parents whom are both musicians), to classical and electronic; to Rock & Metal. He has shared the stage, as a guest musician, with artists such as Whiplash (USA), Diego Torres (Argentina), Arkangel (Venezuela), Julio Nava (Colombia), and as session musician in studio with Fabulae Dramatis (Belgium). David also has a Bachelor´s Degree in Spanish-English teaching (1994) and a Bachelor's Degree in Music teaching (2011).