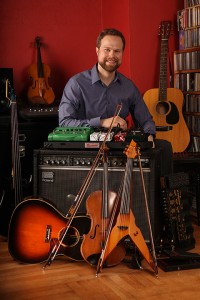 "When I first heard and played a Viper, I knew that I had found the electric instrument of my dreams. To be honest, I wasn't even shopping for an electric because the amplified violins I had heard sounded like bad, cheesy synthesizers, or they felt heavy, unnatural, and uncomfortable. Mark Wood has single-handedly solved all of these problems. Wood Violins can produce a full spectrum of sounds ranging from heavy distortion to tones of ethereal beauty and richness. They are the only electric violins I know that really let musicians dig in and play
. As a bonus, the Viper actually improves acoustic string playing. The amazing self-support mechanism releases tension and encourages good physical habits.
I've also noticed that performing with effects helps string players to develop ultra-precise articulation, which easily transfers to unplugged playing. As a compositional and improvisational tool, Wood Violins open an infinite number of possibilities. The phenomenal timbres and the wide melodic range make me wonder how I ever got by with only 4 strings! Thanks, Mark!!! You're a genius!"
A New York Philharmonic Teaching Artist and a faculty member of the Juilliard School, Dr. David Wallace's performances include appearances for the Chamber Music Society of Lincoln Center and the New York Viola Society, the New York premiere of Stefano Gervasoni's Viola Concerto in Alice Tully Hall, and a 20-concert Visiting Artist's Residency in Saginaw, Michigan. As a soloist, he has been broadcast on National Public Radio, CBS and PBS television, WQXR radio's McGraw Hill Young Artist's Showcase, and gospel music radio show Live from the Lamb's. A regular performer as a soloist and chamber musician, David is also the fiddler of the Texas-style string band The Doc Wallace Trio, which released its debut album, Live at the Living Room, in 2001 and which is on the touring roster of Young Audiences of Houston.